Vibration and Temperature Solutions
Dynamox, is a Brazilian company that offers a complete monitoring solution for vibration and temperature data collection to monitor the health of assets throughout the production chain, making it possible to anticipate faults and avoid interruptions in the process.
Dynamox's technology encompasses hardware and software, with wireless sensors, gateways, a web platform and an app, as well as data processing and analysis, and prognosis services.
Learn More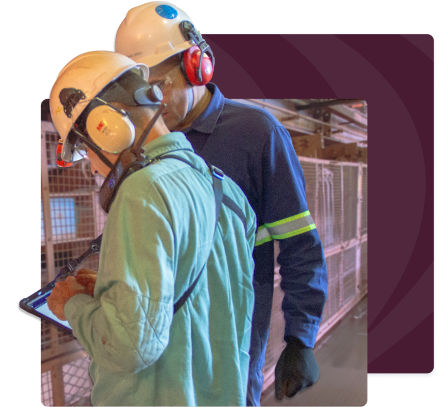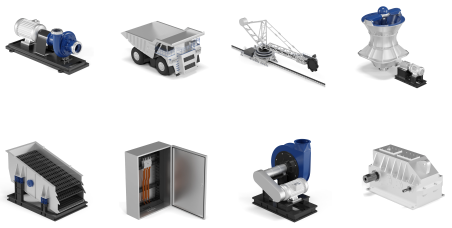 Dynamox has its own asset management system, created and developed by the P&D department, which serves several industrial sectors in monitoring the condition of a wide variety of assets, focusing on predictability and reliability.
We have solutions that are adherent to different types of industry
View automated diagnoses that highlight machines with possible fault indications and their severity levels.
The DynaDetect tool assists and increases the reliability and accuracy of technical analysis and supports managers in asset maintenance planning. DynaDetect combines information entered by the user with data from remote sensing to generate automated diagnoses.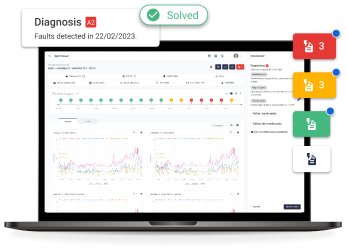 Organize the asset maintenance route with this sensitive inspection checklist tool. With DynaSens, you gain autonomy and flexibility, customizing your checklists and integrating them with the asset plant. Carry out the inspection route using the DynaPredict app, regardless of internet connection, and synchronize the data with the platform, monitoring the inspectors' adherence indicators and asset anomalies in real time. You can also use the audio recording and photo features.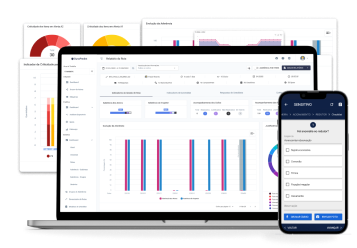 DynaNeo is a visual management dashboard that combines information from the DynaPredict environment, allowing the health of a process to be calculated based on the user's preferences.
Select the assets and indicators that matter to your process, create flows more efficiently and customize them to your needs, edit your production chain using a drag and drop system, and visualize the entire flow set-up along with the necessary asset indicators.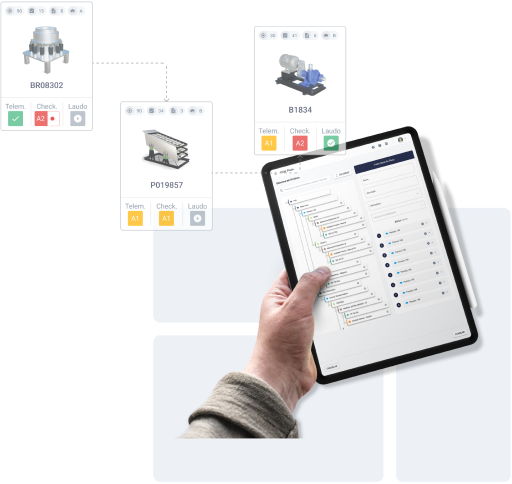 The Remote Monitoring and Prognosis Service (RM&PS) combines wireless vibration and temperature sensing with data analysis and interpretation by a vibration analyst, as well as alert and report generation by Dynamox.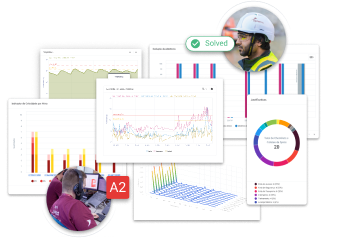 This involves the integration of raw or processed data from the DynaPredict Web Platform with management tools specific to the client's industry (e.g., SAP, PI, ERP, MES, etc.).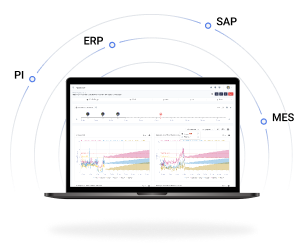 Portable:
A vibration collector designed to be transported from machine to machine, ideal for assets that don't require continuous monitoring.
It boasts high sensitivity and accuracy, with a wide frequency spectrum, generating detailed information about the mechanical behavior of the equipment.
Dynaloggers:
It was designed to identify symptoms of failure modes or defects in machinery and equipment across a wide range of field applications.
Due to its broad frequency spectrum, the HF+ provides comprehensive monitoring in terms of triaxial vibration and temperature for equipment ranging from low to high rotation speeds.
Gateways:
It perform automated data collection from sensors, sending the data directly to the
DynaPredict Web Platform
Do you want to know more?
Please fill the form and choose the solution you are interested in and we will reach you as soon as possible.